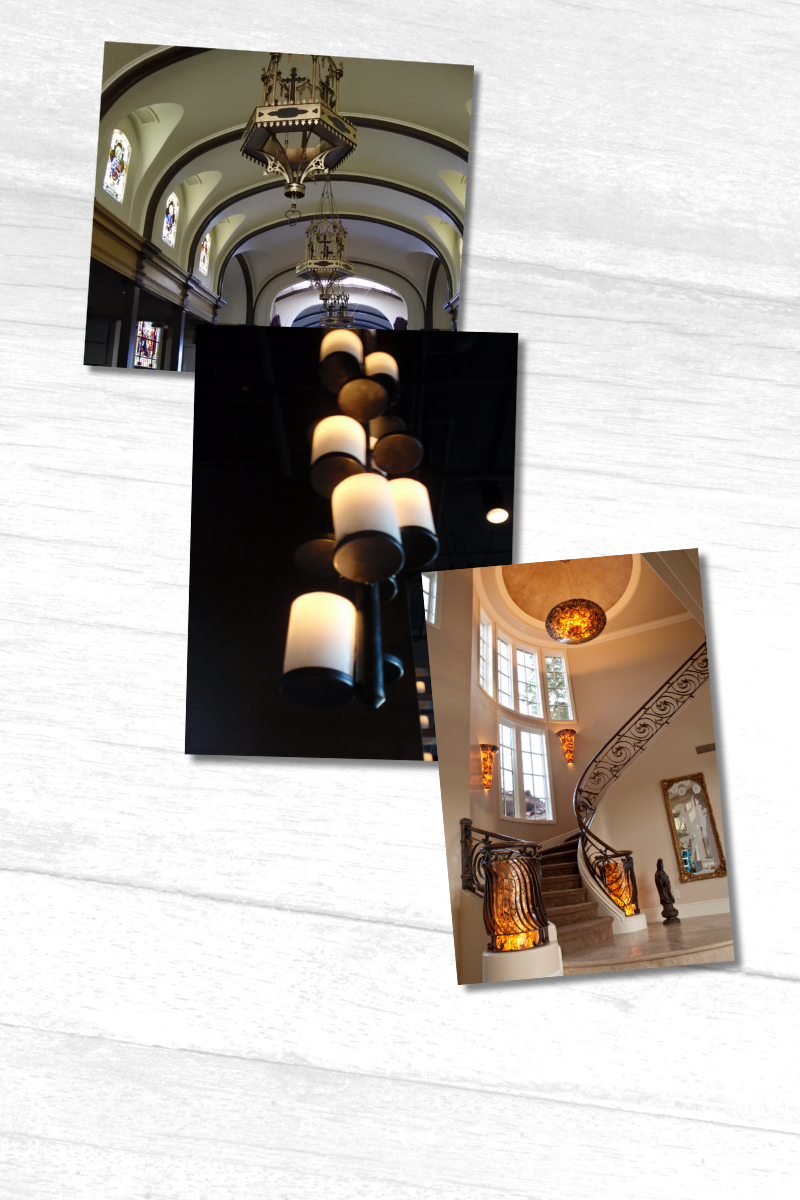 You dream it. We make it.
So what do you have in mind?
Whatever it is, we're excited to craft custom lighting and custom home decor with our full-service custom division.
From fully custom chandeliers, pendants, and home decor to a modification of a Varaluz piece, our team is ready to roll up their sleeves and help take your custom light or custom decor idea from inspiration to realization. Most custom lighting orders are completed to perfection in 120 days or less.
Simply click below to get started, and you'll receive a quote within 24 hours. Now that's a beautiful beginning.

When Holy Spirit Church in Fremont, CA asked us to design custom light fixtures, we devoted ourselves to the project, heart and soul. We worked with contractors, ministers and designers through three rounds of lighting concepts to create fresh custom chandeliers with old-world appeal—occupying two circuits so they served as emergency lights, too. We can quite confidently say that the result satisfied the loftiest of standards.

Walk into any Red Robin restaurant nationwide, and you'll see custom pendant lights by Varaluz. We collaborated with the famed gourmet burger franchise to create finishes and colors that met exacting specifications to the tune of 2,000 total custom lighting fixtures. The next time you swing by Red Robin for a burger, enjoy our work, too—it's really a feast for the eyes.

The classic film Big inspired us to create a large shell custom wall decor installation for the Hilton Hawaiian Village Coral Ballroom. Unlike the movie, it took more than two hours to reach this happy ending. Shells of abaca fiber, from the stalks of banana palm leaves, proved difficult on a large scale, so we designed custom molds and steel supports. We hid this armature beneath the shells to give this custom film-inspired fixture its grand debut. Where custom lighting meets sustainability
The trouble with "eco" is that all too often it looks, well, "eco." There's no reason to sacrifice beauty in the pursuit of responsibility. Varaluz dedicates itself to planet-friendly practices in every light fixture we imagine and create. In fact, many of our designs feel so indulgent, so luxe, that you'd be hard-pressed to see them as "eco" at all. Need inspiration for your custom light fixture? Peruse our crafted creations in our online catalogs. Visit our showrooms
A great way to get a sense of Varaluz's craftsmanship is to view our light fixtures in person. Our lighting and decor showrooms are open during market periods and by appointment only. If you're interested in making an appointment, please fill out the contact form below. You may also tour them virtually 24/7 from the comfort of your own home.
International Lighting Market
Experience a taste of our award-winning Dallas lighting showroom
Virtual Tour
High Point Market
Tour our showroom at the largest home furnishings industry trade show in the world
Virtual Tour
Las Vegas Market
Scroll through Varaluz in the Pacific Green showroom at Las Vegas Market
Virtual Tour